Lumatek Zeus 600W LED PRO 2.9
The sale ends soon Call 07967109663
PayPal Pay in 3 is an interest-free loan that allows you to divide your basket into three installments.
Free NEXT-DAY UK Delivery
Zeus 600W Pro 2.9  produces a PPF of 1770 µmol/s and a very high efficacy of up to 2.9 µmol/J.
The brightest just got brighter.
The higher specification Lumatek Zeus Pro 2.9 is a linear multi-light bar fixture producing very high levels of PPF of 1770 µmol/s and a very high efficacy of up to 2.9 µmol/J.
The fixture efficacy will vary depending on the Input Voltage used.
Pioneers of the innovative, modular, magnetic LED light bar design.
With the advances in technology and fixture performance, high-quality LED horticultural lighting is now a credible option offering a significant return on investment to cultivators. Lumatek full spectrum horticultural LED solutions balance light quality (spectra) with light quantity (intensity and duration) ensuring an even light distribution and uniform spread.
The array of the Lumatek Zeus 600W Pro 2.9 creates a uniform spread of light at a short distance to the crop enabling single-source grow lighting for multi-layer cultivation systems, single benches in low rooms and grow tents. This fixture will cover perfectly 1.4×1.4m for Flowering and 1.5×1.5m for Veg.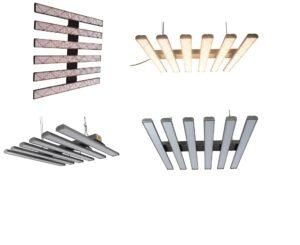 brings you even closer to the perfect LED fixture, the brightest just got brighter.
The new 2.9 line of Lumatek Zeus is built using high-quality Lumatek drivers and the latest generation higher efficiency top bin LEDs from Lumileds and Osram, generating a full-spectrum light source ideal for veg and flowering cycles.
Another new feature of this line is the Clear Glue protection cover technology on the LED bars; resulting in higher light transmittance of 99% without light loss, extended lifetime of diodes, extra corrosion resistance and high waterproof IP65. For basic maintenance, simply clean the bars with wet cotton.
For different cultivars, propagation and vegetative growth periods the  Pro 2.9 can be dimmed without losing efficiency. The high efficiency and low powered LED configuration with 6 LED bars reduce the temperature of the LEDs increasing the output and improving light maintenance.
KEY SPECIFICATIONS
Product Code: LUMLED010
Warranty 5 years
Efficacy: up to 2.9 µmol/J
PPF: 1770 µmol/s
Input Voltage: 220-240V, 50-60Hz
Input Power: 615W (±5%)
Footprint: 1.4×1.4m
Waterproof: IP65
Lifetime: +60 000 hrs
Light Distribution: 120°
Light Source: Higher Spec Osram and Lumileds Diodes
Dimmable: OFF-25%-50%-75%-100% with 0-10V Light Dimmer (Included)
External Control: With Lumatek Digital Panel Plus 2.0
Weight: 13.5 Kg
Dimensions: 1091×1182.4×51.9mm
Spectrum: Full Spectrum F
BTU (With Driver Attached): 2115 BTUs/h
BTU (With Driver Remote): 2047 BTUs/h
FEATURES
– Very high efficacy up to 2.9 µmol/s/J
– Very high PPF output for high intensity 1770 µmol/s
– High-quality Lumatek LED driver
– New Clear Glue protection cover technology on LED bars
– Top bin LEDs
– Balanced full spectrum
– External control with Lumatek Control Panel Plus 2.0
– Replaceable 100W Pro 2.9 magnet light bars
– Fully Dimmable
– User-friendly Plug & Play Assembling
– Detachable driver for remote use
– 5-Year Warranty
ITEMS INCLUDED:
– 6 x Lumatek 100W Pro 2.9 Full-Spectrum Magnet Light Bars
– 1 x Lumatek 600W Pro 2.9 Driver with Connecting Cables
– 1 x LED Structure with Connecting Cables
– 1 x 0-10V Light Dimmer + Velcro
– 2 x Metal Cable Hangers
– 1 x Manual