PayPal Pay in 3 is an interest-free loan that allows you to divide your basket into three instalments.
Solar Flare 100w LED grow lights Equivalent to or better than 200w HPS.
Full-spectrum LED grow lights from seed to harvest with passive cooling making them 100% silent
Cover your eyes… Introducing the all-new Solar Flare! This new budget option from LED Hydroponic LTD is a fantastic addition to your grow room. Designed with the customer in mind, these super-thin yet rugged lights deliver on all sides of the spectrum.
Mounted on just a 2mm solid aluminium plate for maximum heat dissipation with Samsungled LM301B LED Diodes the Turefull drivers make these lights run flawlessly. Especially on longer 18 to 20-hour cycles.
As well as being light in weight, each panel is 100W of full-spectrum light. Whether you need one or multiple units these can be "daisy-chained" together with the kit included in a formation to suit your grow space, whilst providing MAXIMUM light coverage to your garden.
Please ask one of our experts to talk through the tech specs and offer professional advice on your setup, free of charge
Free UK Delivery 
Hanging kit & Power Lead 
2 Years Total Peace of mind Warranty
2  years Technical / after-sales support
From a UK based Company – no long waits for units/parts or repairs
Instant Communication at all times.
100% silent
UK 3 pin plug
[videopress 6FAmcjI7]
[videopress nO34ZFnT]
[videopress Wh2Yqe0X]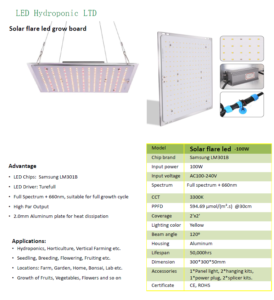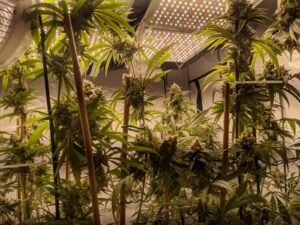 https://www.instagram.com/ledhydroponicsmuddy/
MISUSE OF DRUGS ACT 1971
By section 6 of the Misuse of Drugs Act 1971, it is an offense to cultivate any plant of the genus Cannabis in the United Kingdom without a license from the Secretary of State. Anyone committing an offense contrary to this section may be imprisoned or fined, or both. Visitors to this website are advised against breaking the law.
Solar Flare 100w LED grow lights
[whohit]Page Name[/whohit]