Beware of fakes sold on eBay
Efficient and Long lasting Light for Flowering, Cuttings and Seedlings
An efficient and effective growing LED with an awesome 3.0 μmols/j of efficacy. A great addition to growing setups big and small. This is the perfect entry-level light and also works brilliantly for the more experienced grower too.
Fantastically Efficient
Since 2020 LED Lights have charged into first place in grow setups around the world. With the fantastic efficiency of LED lighting systems, including 50,000 hours life span, which means on a 12/12 grow programme you'd get about 11 years before having to change thestrips. It also has a low heat output which won't affect the ambient temperatures of your grow setup.
Sleek and Lightweight
The Omega Infinity comes with a sleek design and is a lightweight model, weighing in at 10kg, you can install it exactly where you need it to be in your grow room.
Control is Key!
The Omega Infinity is fully dimmable. The light fixture comes with a 4-level control to change the brightness of the light provided by each LED strip. This gives you all the control of the light production in your grow space.
Perfectly distributed Light
Coming in at 3.0 μmols/j the Omega Infinity has a wonderful efficacy when providing light to your grow. With a PPF of 1890 μmol/s you can expect incredible results and huge gains in fruiting and yield.
Where to Use Omega Infinity?
Use the Infinity in indoor grow rooms, grow tents and hydroponic systems. For absolute best results, we recommend using the light in a space that is 1.4m2.
The Omega Infinity 3.0 Pro LED – Ground-Breaking Performance and Value for Money
The Omega Infinity 3.0 Pro delivers an enormous 3.0 micromoles of lighting output for every watt of electricity consumed – putting it beyond almost all of the competition and generating a total PPF of 1890!. And, somehow, the team at Omega have managed to cram this performance into a fixture that comes in at one of the lowest price-points of any spider-style fixture, giving you industry leading performance at a budget price-point.
The Infinity 3.0 is also loaded with features that you'd expect from LEDs in much higher price brackets. It features a magnetic, easy-to-assemble design similar to that of the Lumatek LED; it's rock-solid, built to last and can be up and running in seconds.
You get a simple dial controller unit that regulates the settings in 25% increments, allowing you to tailor the output to your plants' exact requirements. If you want to control multiple units from a central point then check out the excellent Omega Matrix controller. It can regulate lighting patterns for up to 200 fixtures, while opening up a stack of features.
The high efficiency rating of 3.0 µmol per watt has a two-pronged effect. Not only does it generate more photons of light that your plants can use to photosynthesise, it also ensures that less energy is lost as excess heat. This makes the grow room environment very simple to control. It's far easier to heat up a room that's too cool than it is to cool down a room with too much excess heat. Maintaining optimal environmental conditions ensures that your plants are in the best position to make use of the Omega Infinity's abundant lighting output. It's not uncommon to see growers hitting yields over 1.5 times higher than their HPS equivalents, and with an increase in quality, too!
The Infinity produces a full-spectrum output that's extremely heavy in the red areas and with plenty of blues, too (see the 'About' section for detailed information). The heavy reds cause fruits to explode in size as you progress through the bloom stages, squeezing out as much essential oil and weight as possible. The blues help to keep height levels down.
With a 50,000 hour lifespan, you can use this fixture for over a decade on a twelve / twelve lighting pattern! And you even get a three-year manufacturer's warranty for extra peace of mind.
To squeeze as much performance as possible from your LED, consider supplementing with CO2.
Check out The Skyline 1000
When to Use Omega Infinity?
You can use the Omega Infinity across the entire life cycle of your plants. The appeal of this LED is that it has a fully optimised spectrum of light. It is suitable for all plants in your grow space. From beginning to end this versatile LED light will give you the results you need to produce the very best blooms.
How to Use Omega Infinity?
The Omega Infinity is easily installed across any grow setup. Mount the two ballast supports and use them to secure the driver in place. The next step is to connect the cable found on the fixture hinge to the cable on the ballast. You can now mount your light in your chosen location.
When you've got your grow light in the right spot attach the hangars provided to each corner of the light fixture and hang it using the rope ratchets. Adjust to ensure that the LED is at the required height for your grow.
Once you've secured your LED where your plants will get the most benefit, plug in the power cable into the driver and turn it on at the mains. At this point you can now attach a timer or control panel if that's part of your grow plan.
Why Choose Omega Infinity?
The Omega Infinity is designed with the grower in mind. Its versatility means that it's a great entry-level option whilst not compromising on quality for the more advanced and experienced. The precise distribution on PPFD provides your plants with all of the light they need to be in the best condition. The full spectrum gives you the potential to grow multiple species of plants together in one space. Experience strong, healthy growth and huge yields of fruits and flowers with the Omega Infinity all at a lower running cost than its competitors.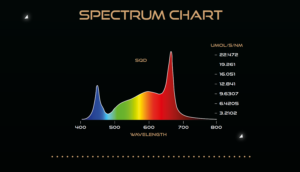 ● Brilliant 3.0 μmols/J efficacy.
● High intensity 1890 μmol/s which is a great PPF output.
● Clear glue protection cover technology on all LED strips.
● Cost-effective;
● Cool operation;
● 50,000 hours lifetime;
● UKCA, RoHS, and CE certified;
● Water resistant to IP65 standard;
● 3-year warranty.
● Detachable driver for remote operation
Items Included
What is inside the box? Get more information on what you get with your Omega Infinity:
– 2 X end frame A & B
– 6 x 3.0 LED bar
– 1 x 600W LED driver
– 1 x support frame
– 2 x metal hangers
– 1 x dimming controller
– 1 x driver tray
– 1 x spirit level

Key Specifications
EFFICACY: up to 3.0 μmol/J
PPF: 1890 μmol/s
INPUT VOLTAGE: 220-240V, 50-60Hz
INPUT POWER: 615W (+5%)
FOOTPRINT: 1.4×1.4m
WATERPROOF: IP65
LIFETIME: +50 000 hrs
LIGHT DISTRIBUTION: 120°
DIMMABLE: OFF-25%-50%-75%-100% with 0-10V Light Dimmer (Included)
WEIGHT: 10 Kg
DIMENSIONS: 1091×1182.4x51mm
SPECTRUM: Full Spectrum F
AMPAGE: 25%: 0.66 | 50%: 1.31 | 75%: 1.97 | 100%: 2.63