Solar Flare 200w led grow lights
Description
PayPal Pay in 3 is an interest-free loan that allows you to divide your basket into three instalments.
Description
2 x Solar Flare 100w(200w)
Full-spectrum LED grow lights from seed to harvest with passive cooling making them 100% silent
Solar Flare 200w LED grow lights Equivalent to or better than 400w HPS.
Cover your eyes… Introducing the all-new Solar Flare! This new budget option from LED Hydroponic LTD is a fantastic addition to your grow room. Designed with the customer in mind, these super-thin yet rugged lights deliver on all sides of the spectrum.
Mounted on just a 2mm solid aluminium plate for maximum heat dissipation with Samsungled LM301B LED Diodes the Turefull drivers make these lights run flawlessly. Especially on longer 18 to 20-hour cycles.
As well as being light in weight, each panel is 100W of full-spectrum light. Whether you need one or multiple units these can be "daisy-chained" together with the kit included in a formation to suit your grow space, whilst providing MAXIMUM light coverage to your garden.
Please ask one of our experts to talk through the tech specs and offer professional advice on your setup, free of charge
led grow lights 400w
Free UK Delivery 
Hanging kit & Power Lead 
2 Years Total Peace of mind Warranty
2  years Technical / after-sales support
From a UK based Company – no long waits for units/parts or repairs
Instant Communication at all times.
100% silent
UK 3 pin plug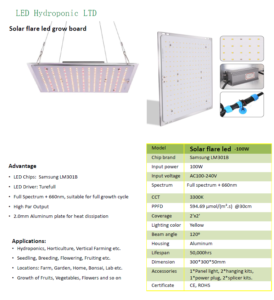 Four Two Zero Tent 100 x 100 x 200cm
100cm x 100cm x 200cm • 16mm steel poles • Out-take ports adjustable up to 6" • Intake ports adjustable up to 5"
Four Two Zero produce a range of affordable grow tents that are an ideal choice for the new grower, or an existing grower that wants to expand their environment whilst keeping costs to a minimum. They are lightproof, waterproof and feature sturdy zips. The interiors are 95% reflective silver dimpled mylar, which assists in eliminating hotspots and helps to provide complete light coverage to the plants. They feature multiple intake and exhaust vents for perfect air ventilation throughout your garden. The poles are powder-coated strong steel, which is fitted together using superior-strength corners.
Krystal 4″ Dual speed inline fan kit
4″ Dual speed inline fan
Combi Ducting 5m & 3 X Quick Release Clips
4″ carbon filter 100x300mm Airflow 350m3/h
High-pressure dual-speed fan
Powerful airflow, low noise level
High-quality & durable
Thermal overheating protection.
BLACK RootMASS 16L Thick Fabric Pot x 4
Root MASS's Fabric Plant Pots are becoming a firm favourite with growers. These are premium heavy duty handmade cloth pots that can be reused, which adds to the eco-friendliness of fabric planters and are built to last. They are made from a breathable fabric which work as a great alternative to traditional plastic pots.
Our Fabric pots are available in two types: one for growing seedlings or young plants named fabric grow bags and fabric planter, which are used as containers for fully-grown plants. Although it is light weight, fabric pots, and fabric grow bags are ideal for growing a variety of plants. The material used in the fabric pots works as a physical barrier that protects fragile root systems from diseases, pests, and harsh weather conditions.