Homebox Q150+ Ambient, 150x150x220 cm
This is a new size of box, the Q150+, requested by customers for a long time and now here at last! It not only perfectly fills the gap between the Q120 and the Q200 but also provides you with new possibilities at higher levels.
Assembled size: 150 x 150 x 220 cm
Assembled size: 59" x 59" x 87"
Grow space: 2.25 m2
Tube A: + 100 mm (4″), 4 times
Tube B: + 200 mm (8″), 2 times
Tube C: + 250 (10″), 2 times
Tube D: + 300 mm (12″), 1 times
OmniFlow-Airvent: Ø 250 mm (10″), 2 times
Maximum capacity: 150 kg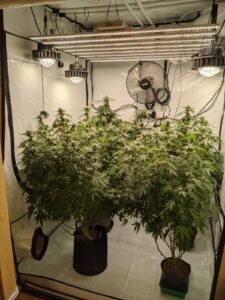 PAR+
(Photosynthetically Active Radiation) is our super-reflective lining, developed exclusively for HOMEbox®. PAR+ is a "smart material" which reflects more plant-usable energy (PAR light) and less heat at your plants.
OMNIFLOW-AIR VENT
allows growers to actively direct incoming fresh air to exactly where it´s needed – for maximum benefit to the corp.
HIGH CAPACITY
Sturdy powder-coated steel rods offer almost unlimited possibilities for suspending heavy ventilation and lighting systems.
DOUBLE BASE
All models are fitted with an additional solid tent base as well as the familiar liner base.
TOTAL-BLACKOUT ZIPPERS
create a light-proof seal without the need for additional flaps and Velcro.
TUBES
optimised in size, position and quantity.
SOLID
Stronger frame poles reinforced connectors and hooks.