1 x Solar Flare 100w led grow lights
Bloomboxx 0.8m x 0.8m x 1.6m
2 x  Root MASS 12L Fabric Pot
1 x 4″ (100mm)  Extraction Kit 280m3/h
Solar Flare 100w LED grow lights Equivalent to or better than 200w HPS.
Cover your eyes… Introducing the all-new Solar Flare! This new budget option from LED Hydroponic LTD is a fantastic addition to your grow room. Designed with the customer in mind, these super-thin yet rugged lights deliver on all sides of the spectrum.
Mounted on just a 2mm solid aluminum plate for maximum heat dissipation with Samsungled LM301B LED Diodes the Turefull drivers make these lights run flawlessly. Especially on longer 18 to 20-hour cycles.
As well as being light in weight, each panel is 100W of full-spectrum light. Whether you need one or multiple units these can be "daisy-chained" together with the kit included in a formation to suit your grow space, whilst providing MAXIMUM light coverage to your garden.
Please ask one of our experts to talk through the tech specs and offer professional advice on your setup, free of charge
Free UK Delivery 
Hanging kit & Power Lead 
2 Years Total Peace of mind Warranty
2  years Technical / after-sales support
From a UK based Company – no long waits for units/parts or repairs
Instant Communication at all times.
100% silent
UK 3 pin plug
https://dai.ly/x7vt592
https://dai.ly/x7vt5bk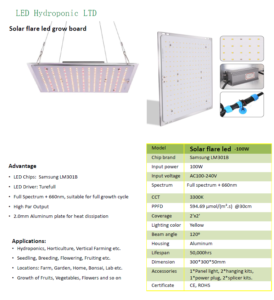 4″ (100mm) Prima Klima Extraction Kit 280m3/h
Prima Klima has been at the forefront of grow room extraction since 1996.
Trusted, reliable and manufactured in Europe they have been a staple in the hydroponics industry for over twenty years.
BloomBoxx Grow Tent
Set up and grow with this outstanding new range of tents. The BloomBoxx's durable 22mm metal framework and metal corners provides the highest quality space for growers. See the results with stronger, healthier plants and increased yields.
Robust 22mm frame
The BloomBoxx boasts a 22mm steel structure, making it one of the thickest and most resilient designs available. At over 6mm wider in diameter than standard tents, its metal frame is highly durable and will withstand heavy loads or unexpected weather.
Use the support bars to hang equipment – without bending or warping.
Reinforced metal corners
Even premium tents on the market today tend to use plastic corners, which are flimsy and reduce the quality of the entire tent. With nothing to hold it together, the whole frame could come down!
The BloomBoxx uses only reinforced metal corners, keeping poles firmly in place at 90° angles: no snapping, leaning, or shattering.
Come rain or shine
The BloomBoxx was designed in the UK – so we know how unpredictable the great outdoors can be. Each tent has an opaque black 1650-denier exterior designed to completely block sunlight and withstand wear and tear.
The exterior is double-stitched for extra durability, meaning leaks and holes are no issue. BloomBoxx's reflective silver Mylar interior conserves light within the tent and regulates its ambient temperature.
Its thick fabric also provides substantial volume reduction for noisy equipment such as fans and carbon filters.
Plant-safe viewing window
The green translucent window on the side of the BloomBoxx allows growers to check up on their plants without opening the door. Plants cannot absorb green light, so they will not be affected by the window and their photoperiod will not be disturbed.
It also reduces the need to enter the tent, preventing light and air from escaping the tent and conserving equipment costs wherever possible.
The viewing hole can be covered if desired with a light-proof Velcro curtain on the tent's exterior.
How to use BloomBoxx Grow Tent?
The BloomBoxx is easy to assemble and disassemble, and consists only of the metal poles, corners, and fabric covering. All poles use "push and click" fastenings for fast, safe construction. Each is labelled to indicate which poles fit together.
To watch our team put together the BloomBoxx, take a look at our video here.
Why choose BloomBoxx Grow Tent?
When it comes to stability, the BloomBoxx outperforms its market competitors. Metal corners keep the tent securely in place and weighted down – they're a simple difference often overlooked by rival brands.
The attention to detail is unparalleled: zips are covered with Velcro flaps to prevent even the smallest amount of light leakage. The tent comes with additional drawstring ports to hold multiple lengths of ducting in place, and an extra zip flange to keep cables safely out of the way.
0.8 x 0.8 x 1.6m;
22mm metal framework;
Reinforced metal corners;
1650 denier black exterior;
Reflective silver Mylar interior;
Conserves light and reduces running costs;
Resistant against wind and weather conditions;
Green viewing window;
Double-stitched for durability;
Extra zip flange and portholes;
Storage bag included.
Product Specifications:
Brand: BloomBoxx
Dimensions: 0.8 x 0.8 x 1.6m
Fabric Denier: 1650
Root MASS 12L Fabric Pot
Root MASS Fabric Pots are becoming a firm favourite with growers. They are made from a breathable fabric which works as a great alternative to traditional plastic pots. Root MASS fabric pots have multiple benefits.
Root MASS Fabric Pots are becoming a firm favourite with growers. They are made from a breathable fabric which work as a great alternative to traditional plastic pots. Root MASS fabric pots have multiple benefits:
• They promote the air pruning of roots and eliminate root circling
• They help to improve root structure and mass
• They aerate the root zone and help to regulate temperatures
• The porous fabric provides excellent drainage which prevents over watering
• They can be used in hydro systems! Water can penetrate the pot and be absorbed by the medium.
They also act as a filter
• The containers are flexible and can be folded up and stored when not in use
https://www.instagram.com/ledhydroponicsmuddy/
MISUSE OF DRUGS ACT 1971
By section 6 of the Misuse of Drugs Act 1971, it is an offense to cultivate any plant of the genus Cannabis in the United Kingdom without a license from the Secretary of State. Anyone committing an offense contrary to this section may be imprisoned or fined, or both. Visitors to this website are advised against breaking the law.
Solar Flare 100w LED grow lights