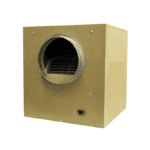 Acoustic Box Fan 6″ 150mm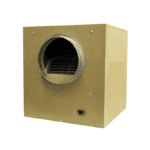 Acoustic Box Fan 6″ 150mm
£250.00
£250.00
Availability:

4 in stock
SKU:

fan-box
Description
Our Acoustic Box Fans are designed to work with an incredibly low noise level whilst still moving vast amounts of air. Perfect for the larger scale grower who wants to keep noise to a minimum. All of our box fans are manufactured and assembled in the UK using superior components.
An Acoustic Box Fan is perfect for connecting to an inline carbon filter, removing stale air and humidity from the grow room, keeping plants happy without creating excess noise.
Moving a lot of air rapidly can create noise which to many growers is less than desirable.
Our Acoustic Box Fans contain a High Quality Squirrel Cage Fan inside a thick MDF enclosure lined with Super Dense Acoustic Foam to Absorb Noise Generated from the Fan and the Internally Generated Wind Noise.
Bearing mounted for silent running
Curved metal blades for maximum airflow
---
Only logged in customers who have purchased this product may leave a review.