Description
PayPal 3months interest-free loan
PayPal Pay in 3 is an interest-free loan that lets you split your basket into 3 payments, with the first due at the time of purchase and subsequent payments due every month on the same date. It's a great way to spread the cost of larger items or to cover emergencies and is a helpful tool to manage your budget more effectively.

Skysaber PRO LED grow lights
It's the stuff plants dream of…
Introducing the cutting edge of LED grows lighting –  the Skysaber.
Featuring 360W of both CREE and SAMSUNG chips, these LED's work in total and utter harmony when coupled with the U.L Meanwell drivers on board. The design of the Skysaber is optimized for grow spaces ranging from 1x1m
These units feature two, silent and powerful onboard fans. Testing for the Skysaber units is vigorous. They are tested for weeks on end running up to 24 hours a day to ensure stable and solid performance throughout your grow.
The Skysaber weighs are only 9kg when constructed and is super slim. This allows you to use the maximum height in your grow room, with an even footprint throughout the space.
We focussed on our customer feedback and admiration of the build quality in the Skyline, so with Skysaber led grow lights, we've made sure the assembly is both innovative and extremely high quality throughout.
The robust ventilated centre column acts as the backbone, housing multiple Meanwell Drivers with connectors close to each LED bar. It also features a clever screw-free, latch-and-connect design for connecting the LED bars.
This means you can assemble in place – put the centre unit in its perfect spot using the hanging kit, then quickly attach and connect the individual LED bar elements which of course feature quality Samsung and Cree LEDs.  No screws required!
The result is quite awesome to behold.
From a relatively small package unfolds a beast of an LED grow light, able to cover a large area with a highly intense light that is spread evenly over that area.
                                             It's the stuff plants dream of!
We've advanced the modular concept massively on this one – and at only 7.7KG, you'll find this is very easy to transport, handle, get attached on a hanging kit and assemble in place.  (The handling and hanging of light this size would normally be a real challenge – the Skysaber is effortless)
Being modular of course results in greatly improved user serviceability and also ensures that even if an LED bar were to fail, you won't lose the entire output from the other bars.
Free UK Delivery 

Hanging kit & Power Lead 

3 Years Total Peace of mind Warranty

3  years Technical / after-sales support

90 days money-back guarantee


From a UK based Company – no long waits for units/parts or repairs

Instant Communication at all times.
IN THE BOX:
Power unit
X6 full-spectrum Sabres
X2 Carabiner hanging clip
Power cable
Brand LED Hydroponic LTD
ASSEMBLY INSTRUCTIONS:
Place the power unit on a stable surface, the fans should be facing up.
Line up the push and lock pins of each Sabre with the holes on the Power unit.
Push the Skysaber bars in until they click into place, to release the pins, press the red tabs on the underside of the Saber bar.
Attach the 4 pin power cables from the Saber bar to the Power unit by lining up the notches on the right of the connector.
Repeat the process for the remaining 5 bars.
Attach the Carabiners to the top of the Power unit.
**ATTENTION* Hanging the light in your grow space may require 2 people.    One person to hold, the other to secure the carabiners/ratchet hanging set.
PROCEED TO GROW SOME MONSTERS!!!
https://dai.ly/x7r8uwf
Specification
Size 85 x 85 x 6cm Actual Power 360W± 5%
Input Voltage AC110V and 220V LED Quantity 272*0.5W*6 pcs
Output Voltage DC30-50V LED Type 0.5W
Lifespan 50000h Output current 2.2A
Working Environment 45%~90%RH -20~40℃ Working Frequency 50~60Hz
Color 380nm-730nm PPF 870μmol/m²/s @30cm
Size(Outer box) 940*250*210mm/set/carton G.W.(Outer box) 7.7 kg/set
PPF Efficiency (μmol/J) 2.0 PPFD (μmol/s-m2)
Working Environment: 45%~90%RH ,  -20~40℃ 45%~90%RH ,  -20~40℃ 
Skysaber LED grow lights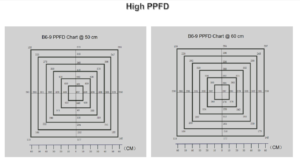 Spectrum Chart
MISUSE OF DRUGS ACT 1971
By section 6 of the Misuse of Drugs Act 1971, it is an offence to cultivate any plant of the genus Cannabis in the United Kingdom without a license from the Secretary of State. Anyone committing an offence contrary to this section may be imprisoned or fined, or both. Visitors to this website are advised against breaking the law.